Mover in Austin
Looking for a moving company in Austin, TX? You're probably not the only one. Austin can be a bit of a moving nightmare with the constant traffic, lack of parking and the collection of rather tall buildings. Moving from one 10th story apartment to the next might just warrant the help of a professional mover in Austin.
Do you really want to move on your own?
Please allow us to lay this one out for you…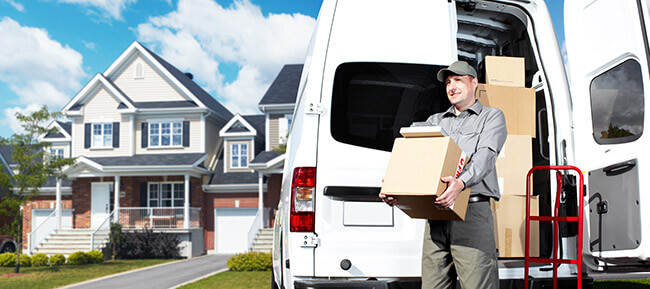 First, you'll have to rent a moving truck. This typically costs more money than it's really worth. You have to pickup the truck on your own and return it on your own. You also have to do all of the loading and unloading on your own.
Hopefully you have friends or family members alongside to help; even then, it's a lot of work. Everyone will have to enter in and out of the elevator or climb multiple levels of stairs multiple times. There is no doubt that a collective move is tiresome. You better have some Gatorade to provide throughout and some beer to hand out after!
If you don't have friends or family available to help then you're really facing a tough task. Instead of taking four or five hours, you might be in for an entire day of moving. Doesn't sound fun, does it?
You'll be driving that uncomfortably large U-Haul truck down the tight city streets of Austin, trying your best to avoid clipping any mirrors and stopping at red lights every 30 seconds. You might have personal items rolling around in the back as a result of not being secured well enough. Of course, the truck company likely won't provide any tie downs or cushions.
Again, moving on your own has the potential to be a real nightmare.
That's why you should rely on professional movers!
Imagine everything we just said, only you won't have to take part in any of the labor. With a mover in Austin, you pack all of your items, we move it from one place to the next, and then you unpack all of your items. It's that simple!
Our staff brings the moving truck, covers the fuel, provides the labor and uses all the necessary equipment to ensure your belongings get to the new destination with no damage. It's not only that we have the equipment, we also know how to use the it!
Inexperienced movers typically struggle with fitting everything into the moving truck. This leads to either reorganizing or increased trips between the two locations. As a professional mover in Austin, JACKson Of All Trades knows how to maximize the use of space.
Our movers will fit big items into the truck in snug fashion, but without compacting them too much to the point of risking damage. Moreover, we know how to reach the happy medium between too much stuff in once space and not enough.
That's what 7,000+ moves to our name gets you—a strategic, quality move!
In addition, don't overlook the time-saving aspect of using a professional mover in Austin. You'll shave hours off the time it would've taken to move on your own or with slight assistance. And it shouldn't take our crew anymore than a few hours to complete the transfer of your items. (Of course, factors like distance and number of items will affect overall time.)
JACKson Of All Trades is qualified and trustworthy
You've probably heard a disaster story or two about moving companies. There are certainly some out there that are not qualified and that are in the business only to make money. That doesn't describe us.
Our company is qualified. We are licensed, bonded and insured. We carry general liability insurance with a $1,000,000 limit and $20,000 Cargo policies. Thus, everything that we transport is covered. Our operations are based on making the moving process easy and stress free for the customer. We don't deceive and we don't take advantage.
Every member of our staff has executed plenty of moves, not just on the job, but also in our personal lives. As such, we understand both sides. We understand how stressful it is to gather every little and big thing in a home or apartment and package it all up, without forgetting ANYTHING.
That in itself can be incredibly irritating to a residence owner. Add packaging, loading, securing, driving, and unloading to the equation and that's too much to ask from someone in a single day. You can take care of the latter five actions by hiring a professional mover in Austin.
Home, office, apartment…we'll be there to help
We don't just do house calls. Apartment moves certainly keep us busy, as do office moves. In part, our versatility separates us from many other moving companies. Homes can be tough because they are larges spaces with a lot of items to move; apartments can be tough because they are tight spaces that exist on any number of floor levels; offices can be tough because they are often very spacious and items within can be very fragile.
It's much easier to make these kinds of moves with a team. And not just any team…a professional team. A professional mover in Austin like JACKson Of All Trades carries the necessary equipment and possesses the knowledge and logic to ensure all items are loaded and unloaded safely. Every member of our team is trained to complete a safe move.
Our word is all we can provide to you at this time, but we promise we will follow through if you decide to hire us on for your move.
How much does a professional move cost?
Again, cost for a move depends on factors such as distance and quantity. To determine an amount for your specific move, visit our website to obtain a quick and easy quote.
What you should know is JACKson Of All Trades does not have any hidden fees and we work off a flat hourly rate. So many moving companies give you the online purchase treatment of adding random service fees to the cost. You don't have to worry about that with us! We tell you the straight up cost and leave nothing to be determined.
You'll find our prices to be very competitive with the Austin moving market. Moves within the urban areas do generally cost more, but that simply falls in line with the overall difficulty of the move. Urban, suburban or rural, we're in the moving game for the customer. We want to help you move efficiently from one place to another, without cost being a disruptive aspect of the plan.
Communication is key to a successful move
Part of being successful in today's business world, a business must be up to date with common communications. JACKson Of All Trades understands that phone calls aren't always the preferred way of communicating. Rather, most folks prefer texting. Texting is direct, convenient and easy. That's why we text our customers to keep them updated about their scheduled moves.
Email is also a reliable option, and we can communicate by phone call if that is best for you. Perhaps a phone call would be more alerting to you as opposed to a quick text. Though, as we see it, updating you on a move is like updating your friend on your ETA. If you are meeting a friend at noon, do you usually call that friend to tell them you are on your way or do you send a quick text such as "OMW" or "leaving now"?
You let us know how you would like us to communicate with you and that is what we'll do. It's all about making the moving process easiest for you! Keep in mind, our staff is a tight-knit group of movers; therefore, we take care of one client at a time, ensuring both parties are on the same page and every aspect of the move is squared away. In speaking with us, you won't be calling a generic customer service line. Instead, you'll be speaking directly with the person assigned to your move.
Two more perks you should know about…
In addition to moving people, Jackson Of All Trades is also a mover in Austin that executes free donation pickups. If you have a bunch of stuff that you would like to donate, maybe to afford more space throughout your home, to simplify a move, or to do so out of the kindness of your heart, we can help!
Just give us a call, provide us your address and we'll let you know when we'll be by to pickup your donations. We do this not only for you, but also as a service to those in need of clothing and many other various items.
As an extra to your move, we'll even reassemble your bed for you. It may not seem like much, but have your ever assembled a bed? You probably have, and there's a decent chance the reassemble was more frustrating than you initially thought it would be.
Well, it's not frustrating for the people who have assembled every type of bedframe numerous times. That is us. And it's not frustrating for you because you won't even have to concern yourself with it.
Plus, the mattress that goes on top of the bed frame can be quite heavy. It's at least a two-man job to move a king-sized mattress. Reassembling your bed will get you off to a nice start in the unpacking/restructuring process. It will cross a big part off the moving list. We'll also help assemble other items, such as desks and TV stands.
JACKson Of All Trades
If you are getting ready to move, give JACKson Of All Trades a call or visit our website—jacksonmovesme.com—to get a quote and schedule your move. As we've covered throughout, we'll be direct with you in regard to pricing, we'll communicate with you as you like, and we'll provide you with experienced service, hassle free and time saving for you!
For a reliable mover in Austin, call (512) 850-1843!