Moving Companies in Austin
It's that time again! Time to pack up and move elsewhere. Perhaps your lease is up and you're looking to move somewhere more affordable. Or maybe you're moving some place nicer. Maybe your family just got bigger and you need more space. There are all sorts of reasons to move; therefore, there are all sorts of reasons to rely on the help of moving companies in Austin!
Don't bite off more than you can chew
Let's be honest, Austin is a challenging place to navigate. The city streets are always littered with cars, stop lights and pedestrians. The entire city seems to have been built on upward slopes and downward slopes. If you are planning to haul a giant U-Haul truck back and forth throughout the city, you may be in for a stressful day.
That's one area where moving services Austin, TX will come into play. Movers drive moving trucks for a living. They are accustomed to driving big trucks, they drive with care because they are hauling other people's stuff, and they are very familiar with their surroundings.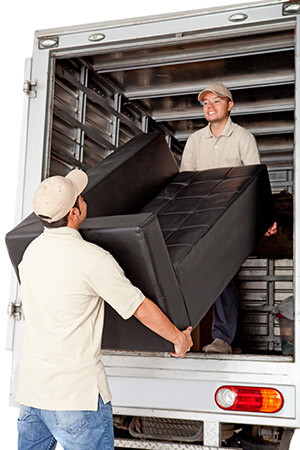 Chances are you're a pretty good driver having lived in Austin for part of or most of your life. Even if you weren't prior to living there, you've likely adapted to the necessary parallel parking and the constantly hectic roads. However, driving a moving truck can be a whole other challenge. They are big and bulky, and they certainly don't come with the turn radius that your traditional cars do.
We're simply preparing you for a task that you may not be used to. If you feel like driving a moving truck through Austin will be overwhelming, you would be wise to rely on one of the moving companies in Austin.
Save trips through strategic packing
Moving services Austin, TX also know how to pack. JACKson Of All Trades, for example, always comes prepared with the appropriate packing equipment, such as fasteners, bubble wrap, furniture padding, boxes, and Styrofoam cushions. We know how to protect all the various objects involved in a move.
We also know how to place items within the truck to allow the space to be maximized. Such a thing seems easy, but it's more tedious than you might think. The dimensions of the truck factor in, as well as the weight and shape of the objects being loaded.
The more that can be compacted into a moving truck (without risking damage), the fewer trips you and we would have to make between your old place and your new place. Maybe the move can be executed with just a single trip!
Certainly, you want to save as much time as possible so you can get to the unpacking and refurnishing/organizing stages. After all, that's the point in which the move is in the rear-view mirror and you become that much closer to setting up your new pad. Don't let the move drag on any longer than it must; rely on moving companies in Austin.
Much faster move with a crew's assistance
Moving companies in Austin don't just service by loading and driving. Hauling heavy objects out of customer's apartment or home is a big part of a move. So much of what furnishes a living space requires at least two movers.
Washing machines are quite heavy, as are couches, shelves, armoires, bed frames, and mattresses. There are of course many other items in the heavy category that we didn't even mention. Some items aren't heavy, but they are wide or long enough to require more than one mover.
Rather than asking your friends and family members to do a task that you know they don't want to do, ask for professional moving services Austin, TX. Consider the effectiveness of a professional crew. A crew shows up to your home ready, determined, and capable!
Our movers don't need time to relax. We understand the immediacy of a move and we understand a customer's excitement to get settled into his/her new home. You tell us what items are ready to move out and we'll begin to make our rounds. Pack, transfer out, load, drive, transfer in, unpack… just like that, you're all set! JACKson Of All Trades aims to complete a very smooth, worry-free move.
And, unlike some moving companies in Austin, we mean it!
If you are worried about your belongings, don't be
Professional moving companies in Austin should always come licensed and insured. Our company is indeed licensed, and we are insured with up to $1,000,000 general liability and $20,000 Cargo policies. Thus, in the very rare instance that we make a mistake, your belongings are still protected.
We understand moving companies in Austin often get a bad rap. Unfortunately, some movers don't have the integrity you would hope for and some view a move as something to hurry up and get out of the way. Those examples don't describe JACKson Of All Trades.
We take pride in our work and in our customers. You won't be disappointed for choosing us; rather, you'll be excited about how smoothly your move went. Our staff handles all items with great care. We don't cut corners (figuratively or literally) and we don't prioritize time over quality. Should an accident occur, we're backed by insurance. Though, we don't expect for accident to occur.
Next time you think "I don't trust people I don't know with my stuff", know that you can trust our company with your stuff. We're not just saying we care… WE TRULY DO CARE.
Professional moving companies in Austin are worth the cost
Moving almost always comes with some sort of cost. You have to rent a truck, buy boxes, and perhaps pay friends for their help. Why not skip a step and pay for full-package moving? Moving services Austin, TX offer it all! We've already covered most of the services, but the professional touch is what really makes your investment worth it.
The customer benefits from a spacious moving truck, knowledgeable workers, manpower, insurance, and more. All the ingredients to a perfect move, JACKson Of All Trades offers.
We also offer affordable pricing. Our services come with no hidden fees, and the truck, labor, fuel, and necessary equipment are included within a fixed cost. The only factors that will affect pricing are number of trucks needed and distance. Get in tough with us to discuss the specifics for your moving situation and we will give you a quote.
We also do free donation pickups. If you're trying to organize before you move or if you just want to simplify your belongings, set your donations aside and reach out to us to schedule a pickup. You can kill two birds with one stone by getting rid of items you no longer use and donating them to those in need. Consider JACKson Of All Trades the helpful middle man!
We'll pickup and assemble your furniture
Not all moving companies in Austin will go to your local Ikea to pickup furniture for your new home. Furthermore, not all moving companies in Austin will voluntarily assemble furniture for you. Our company will do both.
New table, new bed frame, desk, TV stand, shelf, stool, chair… you name it, we'll assemble it. We haven't assembled every brand of furniture product ever made; however, we have enough assembling experience to be able to handle whatever is asked of us. Plus, there are always instructions to rely on.
You won't have to spend time trying to put pieces together, and, while we're assembling, you can unpack and begin to place your items wherever you want them throughout your new home.
Ultimately, our goal is to have your home livable by the time our job is done. That consists of placing and setting up all furniture. We take care of all the big stuff while you handle the many smaller items that you packed. We can help with those to some extent, though you'd probably rather organize all your items on your own.
We move businesses too
Beyond apartments and houses, we can move a business from one office to another. Depending on the size of the office, this can take some time; however, we have the staff and the resources to make it happen.
Fill out our online form (which we'll detail in a second) to let us know the specifics and requirements of the move. Your direct input will help us best prepare. The move could call for multiple moving trucks; therefore, it's important we show up with the proper trucks and equipment to ensure we don't have to return to our headquarters to get more.
Take a shortcut and complete our online form
We've advised you to call us thus far, but it may be easier for you to just fill out our online form. It'll take just a few minutes. We'll request the basic moving information, such as what type of residence you are moving from and to.
You'll have the chance to provide a specific date or time frame in which you need the move completed. In addition, we ask you include important details like flights of stairs, number of boxes expected for the move, and whether you'll need us to make additional stops (to a storage unit, for example).
That's pretty much the jest of the form. We lay it out rather simply, and once you submit, we will give you a quote. You can have a move set up within five minutes!
What about communication throughout the move?
JACKson Of All Trades is one of the moving companies in Austin that is new school and old school when it comes to communicating. Really, we'll communicate in whatever way is best for you. Text, phone call, email… we'll ensure you're up to date. Our time commitment is solely to you on the day that we help you move. Anytime throughout, you can call us or text us.
Maybe you need to confirm we packed something as we're in transit from your old home to your new home. Or maybe you're upstairs on the 7th floor of your apartment building and we're on the ground floor loading items. JACKson Of All Trades makes the most of the ease of communication granted by today's technology.
We'll give you a main point of contact for the move, and the primary contact will always have his/her phone to ensure your calls and texts will be responded to. Moving with us is like moving with a friend, only we bring more equipment and more experience. We hope you see us as your friend for the day!
JACKson Of All Trades
You've now learned just about everything about our company. We're an open book because we have nothing to hide and we want customers to know what to expect before even asking for our help. At the end of the day, there are only so many steps to a move. JACKson Of All Trades completes each step carefully and efficiently. The end result is a smooth transition into your new home.
For more information about our moving services Austin, TX, please visit https://JACKsonmovesme.com.
No need to dread a big move, just get in touch with JACKson Of All Trades!